Start date
21 September, 2019
End date
22 September, 2019
Date note
830-1700 Saturday and Sunday
Course Overview
The K-Taping Pediatrics course introduces various basic systems and associated combination systems to indications that are frequently used in your professional everyday life. In addition, the basic techniques for lymphatic systems and the application of crosstape are presented and learned in practical exercises.
By participating in the K-Taping Pediatrics course, you will learn many possibilities of using K-Taping Therapy.
Muscle techniques for weakness, spasticity, etc.
Ligament techniques for paediatric conditions
Correction techniques for various palsies, foot deformities
Fascial corrections for scoliosis, malposition, colon issues, etc.
Overview of Lymphatic techniques used for swelling
Who Should Attend?
Pediatric physicians, pediatric physiotherapists, physiotherapy assistants, chiropractors, athletic therapists, kinesiologists, exercise physiologists, strength and conditioning specialists, massage therapists, and rehabilitation nurses related to the speciality of pediatrics.
Course Details
K-Taping courses involve a large practical component where participants practice techniques with a partner. The experienced instructors will oversee the practical sessions. Participants will be able to incorporate the learnings immediately into their practice. The high-quality and detailed coloured course book contains all presented techniques and indications.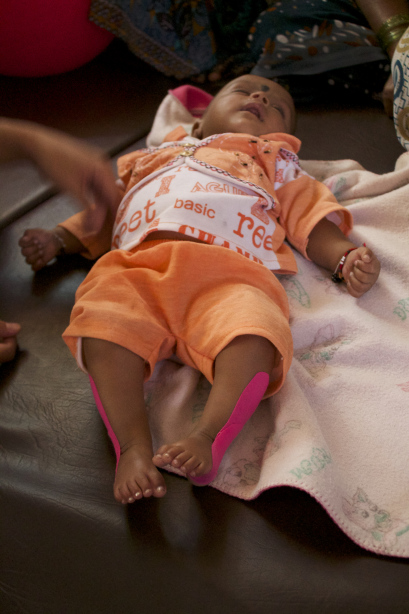 Requirement
The course requires anatomical and therapeutic knowledge. Participants should therefore have a therapeutic or medical education. Students or students undergoing training in therapeutic and medical careers may also attend the course.
The course fee includes the colour workbook as well as the K-tape and Crosstape for the practical component.
In the K-Taping Pediatrics course, patient presentations are usually scheduled.
Recommendation
It is recommended to wear comfortable clothes for the practical sessions (shorts and t-shirts) and bring a towel to lie on if needed. Participants must bring a pair of good quality scissors (best is paper cutting scissors) or they can purchase K-Taping scissors during registration at a discounted rate.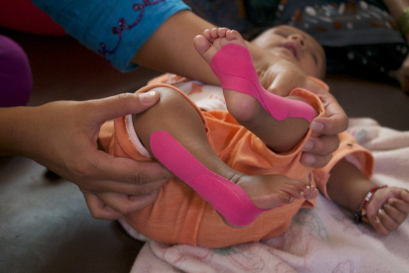 Course Material
Includes the official workbook by the International K-Taping Academy, practice tape supplies for the course, a certificate, and a membership to the International K-Taping Forum.
Other Information
Attire: Bring your own scissors and wear proper attire for taping of your body (i.e. shorts, t-shirt).
Schedule and Location: Sent via e-mail approximately 3 weeks in advance of the course date.
Duration: 2 days, Sat-Sun 0830-1730. Two 15 minute breaks and a one hour lunch. Lunch not provided. Some course venues have restrictions about our capacity to offer coffee and snacks during breaks in the classrooms (we recommend that you bring some or your favourite snacks with you).
Cancellation policy: registration fee less $50 will be refunded for written cancellations received 21 days prior to the event. No refund will be given after this date. K-Taping Academy Canada reserves the right to cancel at any time with full refund.
The K-Taping Academy offers internationally standardised training, certification upon completion of courses and is a professional partner on completion of training through its specialist forum, list of therapists, mentoring and much more.
Event Cost
$445.00 Early bird rate. Regular Rate $545.00
Location
Kids Physio-Surrey
302 - 14351 - 104 Ave
Surrey BC V3T 1Y1
Canada
This course is not provided through PABC. If you have any questions, please contact the private organizer.